Table of contents
Methods of influencer marketing
There are countless ways to execute an influencer marketing campaign. However, we found the following methods have proven to be consistently effective and have become the most common influencer marketing practices:
1. Product placement
This is the most common influencer marketing method. Brands simply put their products/ attach their brand names into the influencer's posts (text, photo, video, etc.) with some related comments. The key to this method is making the content as authentic and convincing as possible, so the audience will not see it as an advertisement but simply influencers love of the brand.
2. Promotions & discounts
Instead of "camouflaging" the product into the influencer's post, some brands and influencers decide to be transparent with the audience about their collaboration by offering discounts or affiliate links. These posts usually include a call to action, with some encouragement from the influencers to trigger both the rational and emotional buying motives of followers.
3. Testimonials
What's better than an influencer who is also your customer? People love reviews and recommendations. Sometimes these testimonials can be one of the key factors that trigger the buying motives of the followers. So if you already know the micro-influencers who have been buying from and supporting your brand, don't hesitate to contact them and offer a free product sample in exchange for a testimonial to share their experience and enhance the interest of their followers.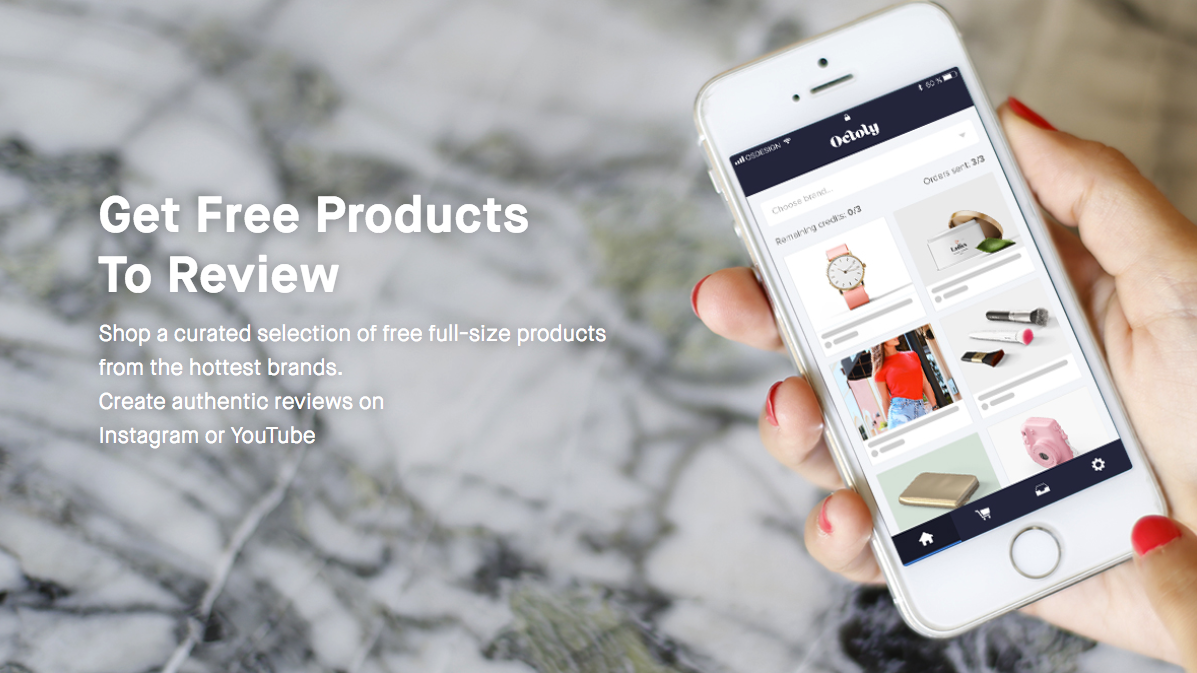 Brands are willing to send products to influencers in exchange for their reviews
4. Joint content
In most collaborations, brands provide the content and the influencer posts it on social media. However, it's always possible to create a more creative and collaborative influencer marketing campaign. Brands can invite influencers to post on their account, or integrate the influencer's content into their own posts. This not only captures the attention of followers but also shows your appreciation of your influencers – a way of managing influencer relations.
5. Ambassadors
Hiring an influencer as brand ambassador is the most thorough method of influencer marketing. The ambassador is the bridge connecting the brand to the audience. Thus, in order to be a brand ambassador, an influencer must fit perfectly with the brand as well as having a high-quality audience pool. Therefore, brands must consider potential ambassadors carefully by analyzing their profiles, using influencer marketing metrics and predicting the future ROI (which can be done with proper influencer marketing tools).
6. Contests & Giveaways
Although offering free products seems like a surefire way of attracting new customers, a brand's own social media account is not always the best outlet for these offers. While most people love free stuff, they are often skeptical about receiving things from unknown brands. Having an influencer organize a contest or offer your free gifts is a smart way to improve your brand's exposure and popularity. This method of influencer marketing is usually used as the initial step for a future lead generation campaign.
Influencer marketing process
Many brands are still confused about how to structure their influencer marketing campaigns and strategies. As with other types of marketing, influencer marketing has its own execution process. It starts with finding the right influencers for your brand, analyzing their profiles, contacting them and offering collaboration and extends to managing the content, campaign and influencer relations. The full process is illustrated in the following graph:
This guide to influencer marketing explains the concept, execution and best practices of InfluencerDB's integrated process in greater detail.
1. Set up strategies and goals
The first step of your influencer marketing process is knowing what you want! In order to exploit the full potential of influencer marketing, you need to define your goals. At InfluencerDB, we describe the generic goals of an influencer marketing strategy as:
Awareness (raising the knowledge and perception of the brand)
Pull (increasing the popularity of the brand)
Conversion (driving sales or stimulating any kind of action of the consumer towards the brand, such as website visits)
A campaign can accomplish more than one of these objectives. Depending on the brand and the strategy, all three objectives can be reached potentially. Keep in mind that influencer marketing is not only about showing products to followers. Paid media is only one part of influencer marketing. Influencer relations and content production are others. Think about your objectives as well as which strategy is the most valuable for reaching these goals and define your KPIs accordingly.
2. Identify Influencers
The next step is to find the perfect-fit influencers for your brand. These are a few free tools to find influencers on the internet:
InfluencerDB: the free platform has a huge database which can be filtered by hashtags, categories, locations, and languages to help you find relevant influencers. The premium software even shows you which influencers already mentioned your brand in the past or engaged with your channel through likes and comment. These engaged influencers are especially valuable since they are already your fans and, as a result, have a high level of authenticity while promoting your brand.
Find influencers with hashtag using InfluencerDB premium software
Google: Use relevant keywords to find influencers for your niche.
Instagram: Use relevant hashtags to identify influencers which are active in your sector.
Blogs: Blogs like Man Repeller and Highsnobiety regularly feature upcoming influencers for specific sectors.
Top 10 Lists: Platforms like Statista constantly create Top 10 lists of the best influencers in fashion, beauty, travel, design etc. Also, find similar lists on our blog.
Media Monitoring: Which influencers are hyped right now? Who is the talk of the town on TV and social media?
3. Analyze Influencers
After having a list of potential influencers for collaboration, it's necessary to analyze their profiles. Although their content might look great and the follower numbers seem promising, an in-depth analysis (both qualitative and quantitative) of each influencer is absolutely necessary,
Qualitative analysis
Brand Fit & Authenticity, to see whether the influencer aligns with your brand and if he or she can truly promote your brand in an honest and inspiring way.
Content Quality, to see whether the influencer's content, imagery, and tone align with your brand
Quantitative analysis
Follower Numbers, to evaluate the potential reach of an influencer.
Follower Growth, to see whether the influencer manages to constantly attract new follower. This is especially important for long-term cooperations!
Like Follower Ratio, to evaluate whether the influencer's audience engages with the content. High follower numbers are invaluable if the audience does not care for the content!
Daily Follower Changes, to spot abuse strategies like purchasing fake follower or follow-for-follow abuse.
Target Group Analysis, to evaluate the true value of an influencer's audience and detect fake followers and bots.
Outgoing Mentions & Posts, to spot whether an influencer already works with competitors of yours.
Engaged Influencers, to see which influencers belong to the influencer's network and might be potential cooperation partners for you.
4. Approach Influencers
If your desired influencer is already a big name in the industry, he or she will get several cooperation requests each day. So when approaching an influencer as the fourth step of your influencer marketing process, point out why the cooperation is interesting for the influencer. If the influencer shows interest in a cooperation, provide more information and highlight the strategic approach of the campaign. Few things to remember while approaching social influencers:
Briefly, present your brand and your values
Outline the campaign and its objectives
State the campaign's timeframe
Your message should include all the important information needed to elicit the influencer's interest but should not contain every single detail. This article will explain to you every step of how to make a savvy influencer proposal.
5. Negotiate terms
To build a deeper relationship with the influencer, chose adequate incentives. Micro influencers might be glad to receive products of your brand, whereas star influencers are more likely to be persuaded by invitations to exclusive events. Showing real interest in the influencer will simplify the relationship building process. In the end, influencers are human beings and cannot be treated like advertising media.Make sure to clearly point out your expectations when negotiating the terms of a cooperation in order to evaluate whether the influencer will manage to support your goals.
The InfluencerDB pricing formula might help you determine the adequate pricing for each influencer.
6. Set up contract & briefing
InfluencerDB has a guide to set up a structured briefing to make sure that each cooperation partner is kept in the loop regarding essential points such as campaign strategy. In these documents, certain specifications need to be pointed out to ensure the success of the campaign:
Campaign timeframe and deadlines
Quantity of content pieces and channels involved
Required campaign hashtags and tags
Required disclosure of the paid cooperation. Make sure to use terms which are legally recognized in your country!
Appearance of the content piece (flatlay, product up front, product in background, etc.)
Tone of the content piece
Exclusion of competitors in posting
Usage rights of content pieces
7. Execute your campaign
Make sure to not let the influencers runoff, but keep close contact and stay up to date on the progress of your campaign. The campaign execution will give you valuable insights. Which influencers are easy to work with? Which ones follow your guidelines best, who was rather difficult to handle? Keeping the relationship building in mind, offer support during the campaign and be open for requests of your cooperating influencers.
8. Review your KPIs and track campaign outcomes
The KPIs to review are dependent on the campaign strategy, but generally, examine:
Follower growth of your channel: How many followers were forwarded from the influencer to your brand channel?
Quantity of content pieces (postings, stories, articles, etc.)
Engagement (likes, comments, reposts), Like Follower Ratio
Quality of comments: Did the influencer genuinely inspire the audience and create interest in the brand?
Earned Media Value: Was the influencer able to create buzz/ virality around your brand?
Mentions/ Tags
Post-performance of influencer postings
Generally, you want to evaluate which influencer cooperation was successful, as well as which didn't work out and why. This very crucial step will help you reflect on the campaign and draw lessons from it for your upcoming campaigns and cooperations.
9. Retain influencers and strengthen relationships
Influencer marketing continues even after your campaign is finished. If an influencer created an extremely high value for you and really drove conversions during the campaign, do not let him/her go easily. Try to build a relationship beyond the limit of your campaign with high-performance influencers. Retaining them is the key to your success in future campaigns, which will also add more authenticity and credibility to your content.